A trip to Barbados wouldn't be complete without learning the story of (and sampling) our most celebrated export – rum! Here, The Lone Star's General Manager, Kristin Boland, shares all you need to know about our island's famous spirit. From the best rum tours on Barbados, to her favourite serving suggestions.
A Brief History of Barbados Rum
"Rum is the world's oldest distilled spirit," begins Kristin. "It is interwoven through the history and culture of Barbados. It's the spirit of island life! In fact, our beautiful island is widely considered to be the birthplace of modern rum.
"It's thought to be as early as 1640 when settlers first discovered that molasses – a by-product of the sugar industry – could be fermented into alcohol. In its primitive form, rum was not the smooth, distinctive spirit it is today. The earliest version of rum was coined Kill-Devil. Probably as hot and hellish as its name suggests, thanks to the basic distillation techniques.
"In 1703, the Mount Gay Rum Distillery began production. Over three centuries has forged its reputation as the world's oldest and renowned rum distilleries."
Discover What Makes Barbados Rum so Special
"Rum making is a fine art, honed over hundreds of years. Where other spirits are made by distilling grains or starches, the base ingredient of rum is sugar. This gives it it's unique status and taste. Therefore, thanks to the temperate climate, abundance of sunshine and the unique high alkaline content of our soil, the sugar cane on Barbados is sweeter and tastier than any in the world. Probably why we produce superior rum!
"If you visit any of the distilleries on the island, you'll learn all about how master blenders infuse rum with its unique smoky flavours."
Kristin's best rum tours on Barbados: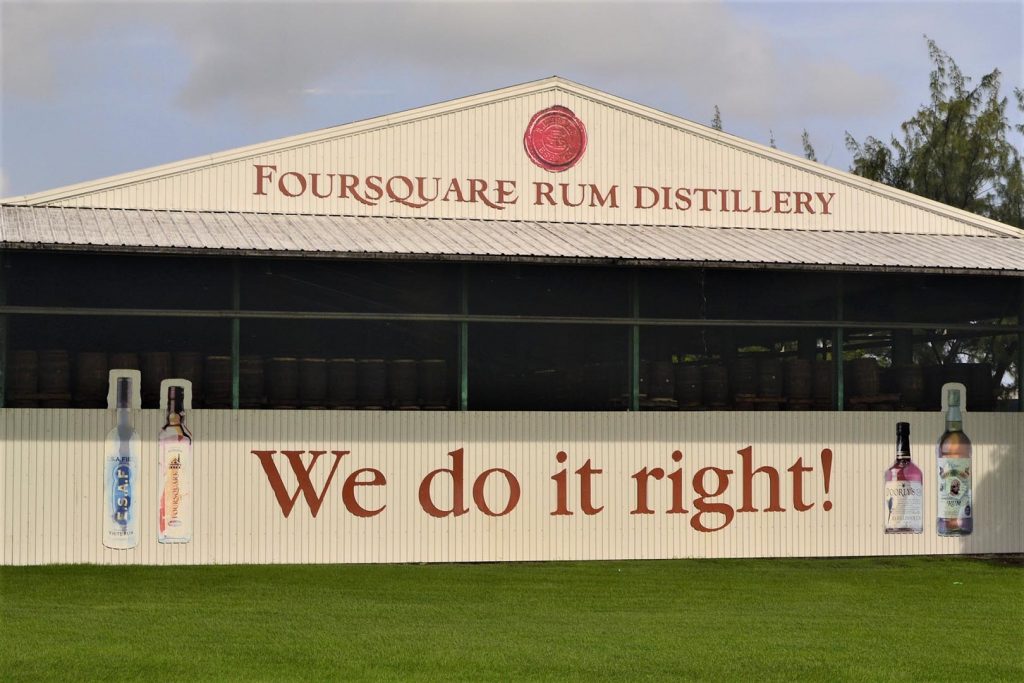 First on our list of the best rum tours on Barbados is The Mount Gay Rum Distillery. It is the island's oldest and most famous rum brand, and well worth a visit but there are plenty of places to see.
A uniquely cultural tourist attraction is St Nicholas Abbey which combines a small rum distillery tour with a Jacobean plantation house and museum – a must see for anyone who wants to combine rum tasting with a walk through the stunning architectural heritage of Barbados.
The FourSquare Rum factory tour is self-guided and completely free, with tasting optional for a small fee. It offers very in-depth information into the distilling process, which can be taken in at your own pace.
Where to Try and Buy Rum
"Barbados has an abundance of rum shops (over 1500 in fact) that aren't your average off licence or liquor store. A colourful ode to the Island's favourite spirit, they fall in between a bar and a shop. Often with entertainment such as karaoke and reggae bands, and serving up tasty local cuisine, they're a great place to sample the wide range of rums on offer and pick up a souvenir from your trip. You can even do a rum shop tour – if you're up to the challenge!
"If your visit falls in October then visit the Barbados Food and Rum Festival for a full flavour of why Barbados has been christened the 'Culinary Capital of the Caribbean' – all washed down with a sip of our finest rum.
"Finally, if a visiting the best rum tours on Barbados all sounds a little too hectic for you, head to the laid back yet lively surroundings of the Lone Star's very own Star Bar. Here you can sip a delicious rum cocktail created by our expert mixologists. Combining rum with sugar syrup, lemon juice bitters and egg white. Of course, we use only the best local rum. Consequently, the Rum Sour is one of our most popular drinks!"